Fall Product Feature – Amaryllis Display
To order, contact your sales rep or Customer Service:
Phone: 847-395-9911
Email: sales@devroomen.com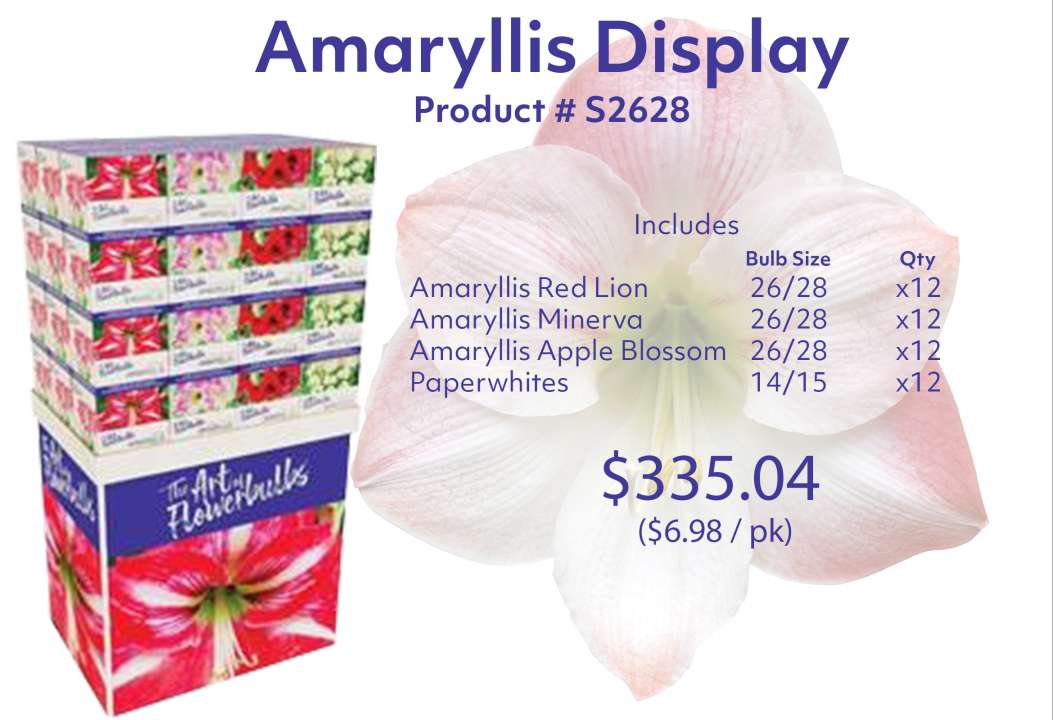 You might also be interested in: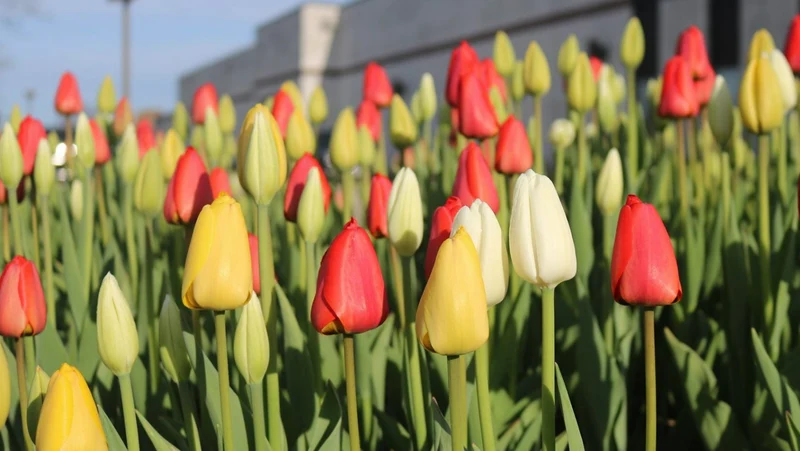 At DeVroomen, we work hard to remain on the cutting edge of our industry. Whether it's insider insights, tips and tricks for professional growers or industry awards, we want to share our passion with you! Here's a weekly roundup of news that caught our eye.
Triumph Tulip is the Flower Bulb of the Year
"The tulip is without a doubt the best known and most popular flower bulb. With their beautiful, bright colors, they are a sight for sore eyes in the garden. There are more than 8,000 registered varieties, with new ones being added every year. The Triumph tulip has been crowned Flower Bulb of the Year. The flowers have that typical tulip shape that starts off like a cone and transforms into an oval after opening."
Via PerishableNews.com – Full story here
You can order Triumph Tulips through DeVroomen and have the flower bulb of the year growing in your yard. Order here!
Selling Plants with a Purpose: Greenhouse Ornamentals for Pollinator Gardens
"The bottom line of our study is, if we want to capitalize on pollinator gardens as a trend, flower growers don't need to grow more native plants to satisfy customers. Instead, they need to expand their definition of "pollinator-friendly" plants to include exotic ornamentals and help educate the buyer."
Via GreenshouseCanada.com – Full story here
Read more...
With spring right around the corner, there are a number of areas you can work on during the first quarter of a new year to raise the bar and boost your bottom line and increase profits. It is a big question with room for variation, but January is typically prime time to launch your year by getting out to industry shows. It gives you the opportunity to put your finger on the pulse of the upcoming spring, the industry in general, and your markets and customers specifically. In addition, January is also the time to make sure that all of your plans and materials are in order. Is everything booked for sure and are there confirmations to support it? Are plans on track and on schedule? If not, what are you going to do to fix and adjust?
February becomes time to really fasten your seatbelt and get ready. March is GO time. By the time you get to March, you are starting to just go and react. Everything is starting to move and the better you have things planned, the better it will go. Crops "can" start growing a lot in that second week of March as the days lengthen. Activities take off as you continue planting and add in an increasing shipping effort, day by day.
Let's jump back to January and February though. There is a progression that will happen, starting with final production and ending with shipping. This progression will be overlaid with weather. So, as you move from February into March, add in the means and practice of weekly – if not more often – studying weather in each of your growing operations and each of your ship to markets. For example, if you are located in one state but ship to multiple states with different weather patterns, how is that shaping up? Will you be able to hold your product if your market is late? Will you be able to ship product sooner if your market warms up fast? One reason that I really like cold frames is that they can keep rain off plants but they can also be used to push a crop if you can throw in some heat to keep night time lows up just a little. Certain thermo-responsive crops can be boosted pretty fast if needed.
Planning by ready date and using recipes is so important, so that you start your crop with an intended ready date. Then you should measure ready dates as you go with a cycle review process. This is to prove out your timings but also to slow or push crops as needed when possible. Beyond seeing what is ready now, get really good at knowing what will be ready a few weeks out, so that you can react to forecasted weather events. If your sell plans are following a historical exit curve, then monitoring the forecast for spikes or longer term trend changes, it will help your decision making.
Keep in mind that for most growers, the majority of annual sales happen in April and May. Potting up in optimum soil with fertilizer dialed in and then keeping vigilance in February and March with active testing of soils, water and scouting for problems is vital for the grower. You want to avoid mistakes in the beginning with proper machine calibrations but you also want to have those testing protocols in place.
All the fruits of early planning will pay off, as you move into "go time" and progress from planning mode to reaction mode.
By: Bill Ainley
Owner of HortMatrix, LLC | billa@hortmatrix.com
About HortMatrix, LLC:
HortMatrix, LLC provides customized, planning and adaptive services for greenhouses and nursery operations. Solutions are designed to fit your unique business needs. www.hortmatrix.com
Read more...